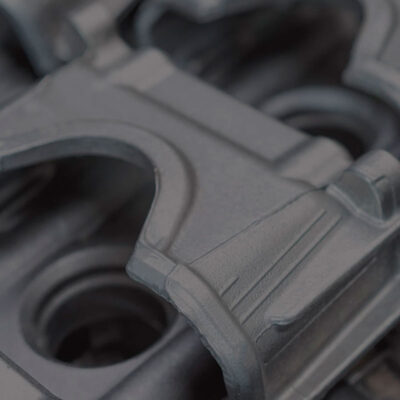 A common method of manufacturing parts is through high pressure die casting. This method is popular due to manufacturers' ability to rapidly make complex parts at high volumes. However, high pressure die casting does cause gas porosity, and a typical concern for manufacturers is reducing the porosity in their castings.
Venting and Porosity
A common cause of porosity is due to inefficient evacuation during the die casting process. During the procedure, molten metal is forced into a mold. If air is not properly evacuated, it gets trapped, causing porosity. This can decrease product integrity and negatively affect product appearance.
To make venting more efficient and decrease porosity in the die casting process, it's important to use appropriately sized evacuation areas for chill vent or vacuum blocks. If the area of the block isn't large enough for your application, the air won't escape from the mold properly and it will build up in the casting and increase porosity. If the block is too large, pressure is lost on the metal which will also cause porosity. Therefore, having appropriate evacuation areas for vent and vacuum blocks, along with properly designed output runners and gates, is necessary for all manufacturers that use high pressure die casting.
The Midland Difference
Midland Technologies is 100% employee-owned, and over the last 25 years have delivered products to over 70% of the high pressure die cast companies in North America. We have decades of experience calculating correct evacuation areas for venting or vacuum of high pressure dies.
We utilize proprietary calculations that have been developed and proved over years of real-life applications to design and manufacture the best possible products for our customers. We offer a full suite of standard products including our Ultimate Vent Blocks and Valve-Less Vacuum Blocks, which are ideal for all die casting applications that can benefit from increased air evacuation for reduced porosity. Furthermore, we provide a service for designing output runners and gates for all casting sizes, whether single or multiple cavities.
Midland also has full design and programming capabilities. If one of our standard blocks isn't the right fit, our technical experts will work with you in designing a custom vent or valve-less vacuum block that is appropriately sized for your specific application.
In addition to producing high-quality products, Midland has an advantage of having a quick product turnaround. We recognize that custom designs are often not associated as having quick lead times. However, all our products are made in the USA which gives us the advantage to significantly reduce product lead times in comparison to our overseas competitors. Standard products like our Ultimate Vent Blocks and Valve-less Vent Blocks often ship within one business day.
Your Solution Source
Whether you need a standard block, a custom block, or a retro fit block in an existing tool, Midland Technologies is your solution source for any of your vent and valve-less vacuum block needs. Our quick turnaround makes us the best domestic choice for your evacuation requirements.