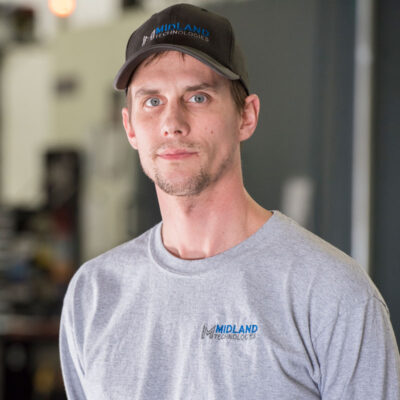 Kenny Volna is the Lead Machinist and Lead Grinder at Midland Technologies and will be celebrating his 11th anniversary this June. Kenny started as a temp to help with cleaning and to lend a hand as needed. Over the past 10 years, he has worked his way up to his current duties today.
When asked what his favorite things are about Midland, he replied, "Good people and it's fun getting new projects that test my abilities so I can learn new things that help me to strive in the industry." He also stated he was drawn to Midland because they took him on as a full-time employee during the '09 recession and were willing to teach him the industry hands-on.
Kenny is an avid hunter and fisherman (open water and ice fishing). He enjoys being outdoors, camping, and spending time with his family. He has a wife named Amanda, and 2 kids; Vanessa who is 4, and his stepson Taylor, who is 13. His family also has a one-year-old Golden Retriever named Acorn. Thanks for being a valuable member of the Midland Technologies team Kenny!