SIZING VACUUM PUMPS AND RECEIVER TANKS
Correctly sizing vacuum pumps and receiver tanks for specific applications is critical to proper function. Vacuum pumps generate the vacuum level within a defined volume which is the receiver tank. The vacuum level is measured in relation to ambient atmospheric pressure and reported in units such as Torr, inches of mercury ("Hg), Pascals (Pa), or millibar (mb).
The critical feature of the pump is the speed at which it can evacuate a volume of air down to a particular vacuum level as measured by average cubic feet per minute. If the pump is too small, it will not be able to achieve sufficient vacuum within the shot cycle. If the tank is too small, it will not provide a sufficient reservoir to evacuate air from the cavity. Midland Technologies can calculate the required pump and tank size for your specific casting application.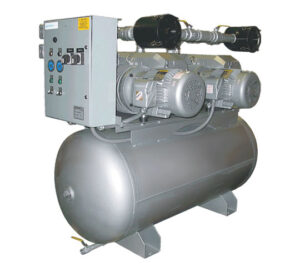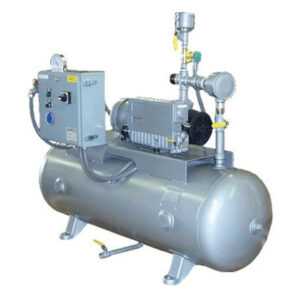 Portable and central vacuum systems are available in a variety of sizes and configurations. Not sure what size vacuum pump you need?  The first step is to complete the Vacuum Pump Sizing Form and submit it to us.  We will calculate the recommended vacuum system, including the pump and tank size, for your application.
PORTABLE SYSTEM CONFIGURATION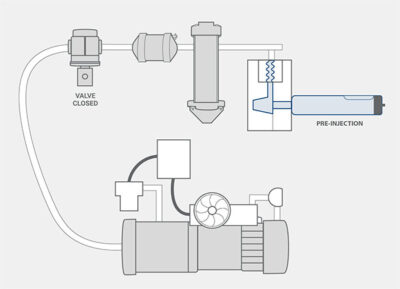 PRE-INJECTION
Solenoid is closed
Vacuum pump evacuates the receiver tank down to vacuum level
Die is in the closed position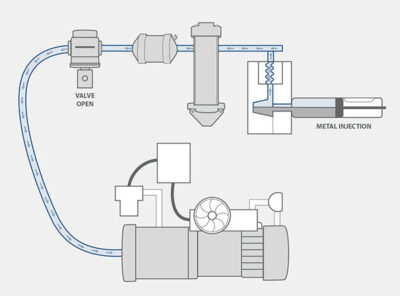 EVACUATION OF CAVITY/INJECTION
Injection begins
Solenoid on vacuum system opens when plunger tip covers pour hole
Air evacuates from the sleeve and cavity through the vacuum block
Slowing down the slow shot can increase time for air evacuation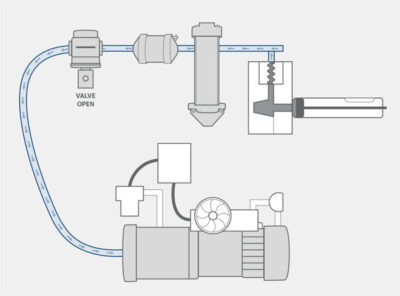 SOLIDIFICATION
Cavity fill and solidification
Vacuum can remain on throughout solidification for process simplicity and to ensure maximum evacuation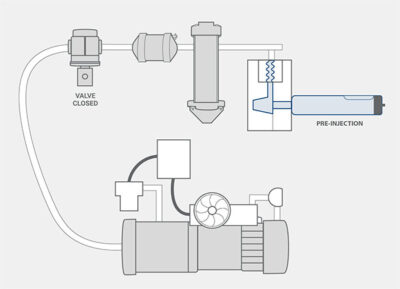 CASTING EJECTION/RECOVERY
Solidification complete
Solenoid on vacuum system closes
Die opens and casting is ejected
Vacuum pump recovers vacuum level in receiver tank as necessary
Cycle repeats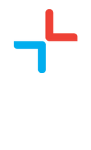 Whether you need a replacement block or a new unique block for your project, Lethiguel is your
solution source for any of your custom needs.
Custom designs and alternative formats include: Custom Dimensions, Corner Radii, Double
Flow Areas, Ejection Pin Holes, Custom Water Lines and Steps.