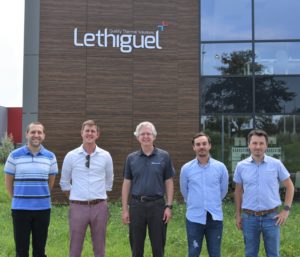 Lethiguel SAS announces complete acquisition of Midland Technologies Inc.
Lyon, July the 5th:  Lethiguel company, a French firm operating in the light metal casting industry, has acquired a 100% stake in Midland Technologies Incorporated, Minneapolis-based casting solution provider that specializes in vent and vacuum technologies. Transaction was completed on July the 2nd of 2021.
This strategic move will lead the group to the double benefit of a strategic industrial establishment in the USA, and the acquisition of a complementary technology and high added-value know-how focusing on the HPDC industry. Thus what doors does it exactly open for the two companies?
Lethiguel's goal is to broaden its range of know-how and technical added-value in the field of die-casting. As part of its global strategy, the group needed to establish operations in the USA with a local sales and technical support office and team. Acquiring Midland and integrating its operations and products portfolio has been the opportunity to give meaning to the future of both companies. Midland brings other capacities in terms of products, manufacturing, R&D, and know-how. With very promising market and innovation potential, Midland will be a key to promote Lethiguel's presence in the US, while benefiting from the French group's global sales and distribution channels worldwide.
By joining forces, Lethiguel Group reaffirms its multi-specialist position in a demanding and complex industrial environment.
Lethiguel's vision: the group is growing as a global specialist of casting solutions, expanding territories, and diversifying into other industries and markets. Each entity of the group is a technical-niche specialist, developing and providing casting solutions to the light-metal casting industry. The company already serves customers across 40 countries on all 5 continents, and is active on all the segments of the light metal value chain: cast houses and primary light metal, Die Casting (HPDC, GDC, LPDC), and Recycling.
Lethiguel SAS
Lethiguel was founded in 1976, starting as a trading company distributing crucibles and machine tools for the French aluminum industry. The company developed its domestic distribution portfolio over the years, with the trust of innovative and reliable companies such as StrikoWestofen, DVS Gruppe, Ahresty, HB Therm, and Thermobiehl to name a few.
 At the beginning of the 2000s,the annual sales was below 2.360.000 USD. With the acquisition of a small promising business in 2003, the company started to design and manufacture its own thermal  technologies. Over the years, Lethiguel focused on developing its export sales and international markets, leading to a total inversion of domestic/export sales ratio in about one decade. In order to sustain this new challenging business model, with an 80% export sales, the company established a network of international representatives, and created sales and support offices in Germany (2013), Canada (2015/ dissolved 2019), Japan (2016) and Mexico (2021).
The most recent turning point in the firm's history is 2019, with the launch of an industrial ERP system, and the HQ moving to a new facility  in Lentilly (Lyon northern suburb)